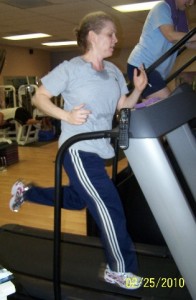 Another month has gone by and Lisa just continues to improve.   She has become addicted to the "TABATAS" and is enrolled 3 times per week.
Her waist is shrinking down, her energy is great and she has the determination and drive to get her where she wants to be.  Lisa wants to lose some weight, yes… but she doesn't want the hip and foot pain, she wants her core and back stronger. 
Last night in tabatas, Lisa's sprints where up to 7.5 mph on the treadmill… kick butt !
Lisa you are doing awesome and i want everyone to know you are rocking!